The RentSyst team has prepared a new update package for you, for better and more convenient work in our software.
Update List:
New Change price button
Improved Penalty system
Damage Report
Agreement for additional companies
Let's take a closer look at each update.
Change Price button.
Now, when creating an order, a Change price button has appeared under the TOTAL, which simplifies the work with price changes.
This button will allow you to change prices to:
Vehicle
Delivery (Delivery and Return)
Insurance
Security Deposit
Taxes (On one condition that the amount of taxes is ADDED to the amount of orders)
You select the desired item where you want to change the amount, write a new one and the new amount will be displayed in TOTAL.
All amounts that you change using the Change price button will be displayed in the Agreement and Invoice.
Improved Penalty system.
It is possible to add Penalty, we wrote about this in our article, we slightly changed the functionality of this button and added the ability to add Penalty for car damage.
If during the rental of a car, the client damaged the car - this can be added to the general bill. Click on the Add Penalty button
A window appears in which you select Damage from the list. We make descriptions for what you write out Penalty and indicate the amount.
Penalty for Damage has been added and displayed in TOTAL and Invoice.
In order for all added Penalty to appear in Invoice, it is necessary to Update them. Our system will notify you about this, but you must remember too.
Damage Report
Now in our system you can generate Damage Report.
Damage Report is generated if you add damage to the car while it is in the Rental status. Then this Damage Report will be assigned to the order in which it was created.
To receive the Damage Report, the order must be in the Rental status. Go to Check order. And damage is added to the car.
IMPORTANT!! The order does not need to be transferred to the DONE status. Otherwise, Damage Report will not be generated.
Then you need to update Documents.
And then again go to the general list of Orders and Damage Report can be found next to Agreement and Invoice
Damage Report example: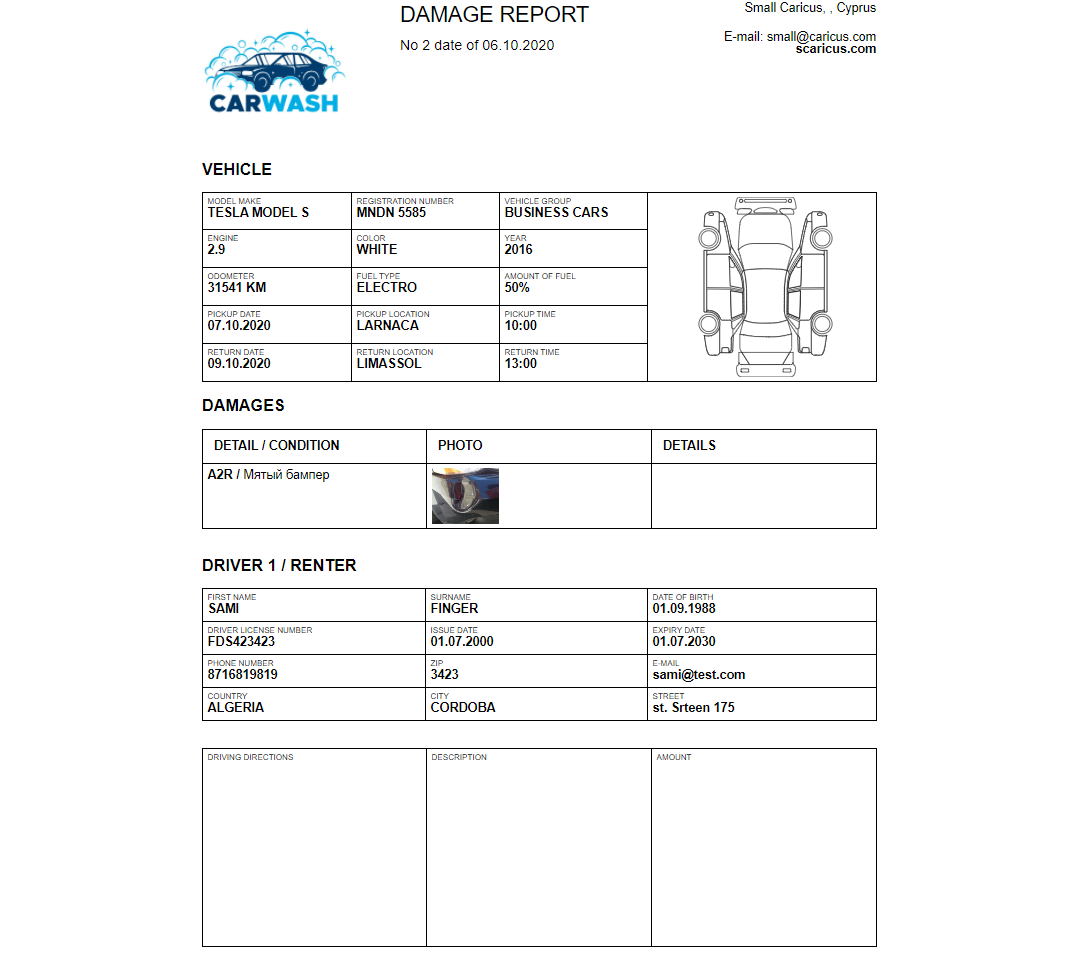 Agreement for additional companies.
If several companies have been added to your account, now for each of them you can create your own Agreement. Before adding the Agreement, check that there are Company Names.
Go to Settings, tab Notifications & Templates, section Templates and click on editing Agreement.
In the window that appears on the right, you will have a list of all the companies that are in your account.
Switch between them and add your own Agreement for each company. You have the opportunity to change Inner text and Agreement terms.
Do not forget, when creating a new Reservation, you can change the company at the last step, in the Documents section.
This update is already available in your personal account. Go to your account and start using the new features from RentSyst.